Our partner golf clubs benefit from the golf ball diving service. They get a profitable passive income.
Since we founded our company, more than 65,000,000,00 golf balls have been recovered and therefore our partners received some million Euros.
Get this additional and lucrative income without much effort.
Our divers are equipped with a scuba tank and a net. In the water, they explore the balls by hand contact.
GOLF BALL ROLLER FOR LINER PONDS
A roller made of plastic discs is pulled by hand and with a rope through the pond. The balls collected remain in the roller and are removed by hand. This method, which is developed for liner ponds, is a very efficient technique. Due to the highly efficient effect we are able to recover up to 50 % more golf balls compared to conventional diving techniques.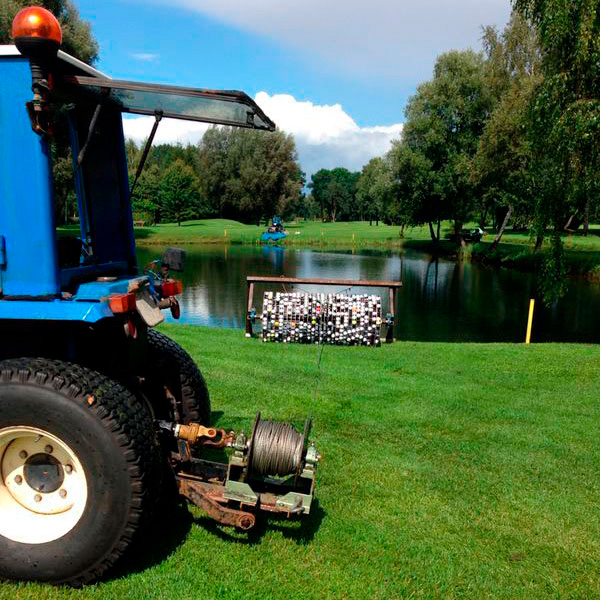 GOLF BALL ROLLER FOR NON-LINER PONDS
Especially in very cold waters or in winter we apply this method. A specially developed roller is pulled through the pond with two rope winches in order to collect the golf balls. Of course, the technique is applied by our experts to recover the balls in a safe and smooth way.
IndependentGolf is nationally operating and can draw up years of experience.
This is the reason why we are able to recover up to 50 % more balls and thus maximize the income of the golf club.
Due to the wide range of methods we offer, we are perfectly prepared to handle any kind of situation.
Please fill out our contact form or call us at:
Having discussed the details of the different methods, you can choose between the following financial options
Reimbursement per golf ball recovered
Part of the balls is given back to the golf club
Offset with items from our product catalog
Annually agreed fixed fee
For more information about our product catalog, please click here.
Time for scheduling.
To arrange the exact day and time we get into contact with you early enough.
Please contact our team if you are interested to cooperate with us. Let's discuss all the necessary details.
Should you be interested in a reliable cooperation, we would be happy to read or hear from you. One of our employees will get into contact with you as soon as possible.